Our commitment
for society and the environment

A deep respect for the Earth, for humanity, for its
fruits and for those who cultivate them.
AN ETHICS OF TRANSPARENCY

AWARE OF OUR SOCIAL ROLE
We support coffee farmers by valuing their work and improving their living conditions, we reduce the environmental impact of our production by adhering to ethical and transparency standards, with an ever-increasing desire to extend them to all areas that can be reached by our action.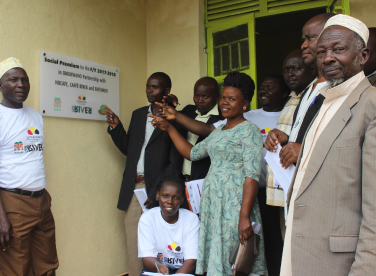 On the side of the environment and of the professionals of the future
The projects we support
ETHICS
Social commitment
Our support to coffee farmers around the world
ETHICS
With Costa Rican coffee farmers
We have been collaborating since 2016 with Grupo Empresarial Brenes Aguilar, made up of Eduardo Brenes and his brothers Roy and Heiner Aguilar, three passionate supporters of the cause of coffee farmers in Costa Rica, the land of the best coffees in the world, unfortunately affected by low profitability.
Thanks to this collaboration, we help many families of farmers in the areas of San Ramón, Naranjo, and Tarrazú, from which we currently buy Specialty Coffees at a much higher price than the market and higher than that normally expected for the fair trade market, of which a part (over USD 2000 per container) is used for social purposes, mainly in favor of the families of coffee pickers from Nicaragua or Panama.
With Ugandan coffee farmers
We collaborate with NUCAFE, the "Association of Small Coffee Farmers in Uganda", supporting thousands of farming families with fair prices, interest-free pre-financing, accelerated payments, and other benefits. This collaboration gave rise to the brand "Omukwano" ("friendship" in the Luganda language) which immediately characterizes its origin.
With the coffee farmers in the Dominican Republic
We have been collaborating with Oxfam Italia since 2000, a period in which farmers in the Dominican Republic were hit hard by low coffee prices and forced to leave their mountains in search of a better future.
The "Caffè Jamao" brand was born from the collaboration, which takes its name from the river the area refers to, and its logo communicates the four specific elements of the project: farmers, coffee, mountains, and biodiversity.
With Peruvian coffee farmers
Colonia Huanca is the enchanting mountainous area of Selva Central home of the coffee farmer Shirley Caballero Quispe, who supplies us with her wonderful coffee, cultivated at the foot of the Andes Mountains.
In the spring of 2021, we helped support the construction of this facility which pupils use for theatre, exhibitions, and more, and we are very happy to see how this has led to highly-appreciated results.