HUMAN RELATIONSHIPS, ETHICAL STANDARDS, AND QUALITY
Closest Connection, our distinctive way of working
Our coffee is first and foremost that of the farmers.
Whenever possible, we reach the furthest lands and get to know personally the members of the families and farmers' associations we collaborate with, in order to operate according to the principles of the Closest Connection.
With the utmost respect for people and the environment, working alongside the farmers, we select the best green coffees and export them, guaranteeing traceability, adherence to high ethical standards, and product quality.
The farmers are therefore responsible and proud of their coffee which bears their name and tells their story.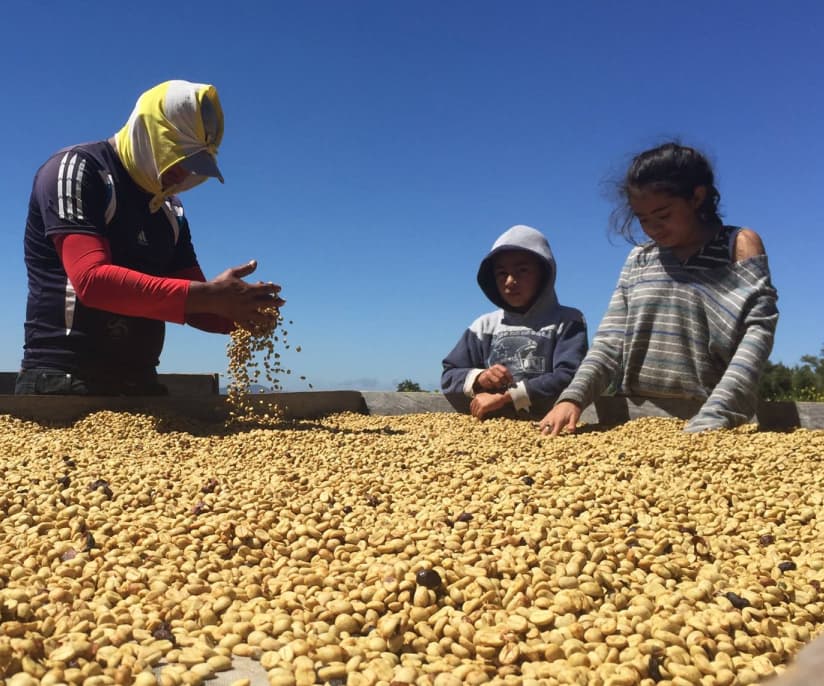 Closest Connection
What do we do differently?
In the "conventional" supply chain there are numerous steps between the coffee farmer and the consumer. Before reaching the roaster, the coffee undergoes a long and complex journey between intermediaries, cooperatives, exporters, major importers, and small distributors.
The end result is that the farmer gets a low economic benefit and almost always remains unknown. His coffee is thus "depersonalized", deprived of its identity and its history.
With Closest Connection we are cutting out the coffee supply chain, placing the values ​​of environmental and social sustainability at the center of our work.
In fact, we do not rely on intermediaries but we buy green coffee directly from the farmers and their associations, establishing commercial, personal, friendly relationships
We bear greater risks and costs and face greater complexity, but we also reach higher levels of quality, establish amazing human relationships and personalize each blend to tell a story of love and passion for coffee.
Colonia Huanca, Pichanaki
Familia Caballero Quispe
Near the majestic Amazon Rainforest, in the foothills of the dizzying Andes, in an impervious and fascinating place called Chanchamayo, Shirley Caballero Quispe cultivates her coffee with love, certain that the passion for her work can overcome any adversity.
This commitment, handed down to her by her father, is repaid by a very high-quality coffee, with remarkable hints of hazelnut and cocoa, and a sweet lemon aftertaste.
Cultivated at an altitude of 1,250 meters above sea level and harvested in July, Shirley's coffee washed-Arabica (Catuaì and Caturra) is Organic-certified and Rainforest Alliance-certified.
Coffee Farmers
COSTA RICA
Costa Rica
San Marcos de Tarrazú
Familia Esquivel Picado
Minor Esquivel's family produces coffee of the highest quality at the farm called La Pastora, located at an altitude between 1,300 and 1,600 meters above sea level.
Immersed in the breathtaking scenery near San Marcos de Tarrazú, Don Minor, his wife doña Dilcia, their three children Yaindra, Nitzi, and Bryan, as well as their grandchildren, work with passion and care at the coffee harvest, in which several Panamanian families also participate.
Coffee Farmers
BRAZIL
Brasile
Buritizeiro, Cerrado Mineiro
Fazenda Império
Located in the north of Cerrado Mineiro, the northern savannah of the state of Minas Gerais, the fazenda is owned by the Faria family who, with rational use of resources and respect for the environment, have dedicated themselves to the cultivation of high-quality Arabica coffee since 1998. Indeed, Fazenda Império has Rainforest Alliance certification, as well as the origin mark of Cerrado Mineiro products and the quality certification of the BSCA (Brazilian Specialty Coffee Association).
The entire annual production consists of 25,000 bags of coffee, of the catuaí (amarelo and vermelho), bourbon amarelo, acaiá cerrado, and catucaí amarelo varieties, both natural and semi-finished.
Patrocínio Paulista, Alta Mogiana
Fazenda São Francisco
Located in Alta Mogiana, a region that boasts over two centuries of history linked to coffee production, the farm covers an area of ​​483.73 hectares (about half of which are covered by coffee plantations) and belongs to Nilton Messias de Almeida, judge, and lawyer, but the coffee business is carried on with passion and competence by his son Nilton Junior.
Thanks to its privileged location, the Fazenda São Francisco stands out for the high quality of its coffee production and for the constant attention to the socio-environmental sustainability of its processes (Rainforest Alliance certification).
Coffee Farmers
UGANDA
Uganda
Mount Elgon
Bufumbo Organic Coffee Farmers
This association of farmers was formed in 1997 in the village of Bufumbo, district of Mbale, with the aim of improving the living conditions of farmers in the area and moving from small-scale peasant cultivation to a more commercial structure.
It currently includes 343 families and the coffee is cultivated on Mount Elgon, in the area of ​​origin of the large Bagisu tribe of eastern Uganda.
The final product is bugisu coffee, washed Arabica, organic-certified, with extraordinary organoleptic characteristics.
Burahya County, Kabarole District
Karangura Peak Coffee
Karangura Peak Coffee was born in 2013 as an association and, in 2017, transformed into a cooperative. Its purpose is to impact communities through collective marketing, which aims to increase coffee sales volumes and thus maximize profits.
The cooperative initially brought together 400 individual farmers, later reaching 683, of whom 368 were male and 315 were female: an excellent result in terms of gender equality.
The Karangura Peak Cooperative is located in Kyabwire village (Nyakitokoli parish) on the Bundibugyo Trail under Karangura Sub County, Western Region of Uganda, and works with coffee farmers across the region.
Karangura Peak CFA is now part of NUCAFE, the Association of Coffee Farmers in Uganda. This partnership aims to implement production capacities through the training of farmers on the ownership model, the trade for export, and the added value of coffee.
The coffee named Wugar(washed Arabica coffee from Uganda) and the one namedDrugar(dry natural Arabica coffee) come from Karangura.